Tonight we concluded the Raid on Innsmouth. 18 different scenes over 4 epic sessions, featuring 36 different characters; 1 Coastguard Cutter, 2 Patrol Boats, 1 Submarine, a truck with a snow-plough and a cast of Marines, Coast-Guardsmen, Submariners, Treasury Agents, mobsters and regular investigators. It was a lot of work to prepare, and even more to deliver. Some of the epic scenes taxed my descriptive skills pretty heavily, and the sheer level of violence was like nothing I've run in Cthulhu, outside
Masks of Nyarlathotep
. Overall it was a lot of fun; completely different to the regular Kingsport game, and a hard thing to top, but at the very least, I think I did the scenario justice. The next thing to consider will be running a published campaign, although I'll need to be careful to pick something that caters to both the slow atmospheric burn that some of my players prefer, and some bursts of frantic action that others enjoy.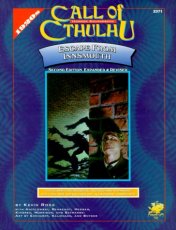 On Spetember 9 I provided a brief players perspective review of 'Burning Stars' from
Terrors From Beyond
where I said
"I am assured that all will be revealed in the conclusion, so reserve final judgement for now.
" Well, in fairness this scenario delivered a humdinger of a twist. Something so clever I've never seen it done before in a roleplaying game which takes my opinion of this scenario from 2/5 to 4.5/5. Despite this awesomeness, there were some elements which let down the playability of the scenario and it could do with a fair bit of tuning to really deliver on its awesome twist. Still, great stuff!